Last year, when Air Philippines had a fare sale, a good friend, Chris booked us (her, me and Ellainne) tickets to Zamboanga. With no reason and no research, we all agreed to a plan of going to Western Mindanao. It was so far away that somebody snickered and sarcastically told me to go to Tawi-tawi the next. I have such a happy travelling feet that I am not bothered of the unkown places.
Ten months after, we fast track to the present. With all the crazy stuff getting the three of us busy, we haven't remembered let alone prepare for the unknown. Good thing it was payday just before our trip, I have enough cash for the trip. After all the convincing one another to push through with hitting Mindanao with Chris having a no show, it was me and Ellainne at the NAIA Terminal 3 at 2:30AM.
After getting our boarding passes, we waited for 4AM for our boarding call. All throughout the flight, we were snoozing trying to grab some sleep to prepare us for a 2-day adventure in Asia's Latin city, Zamboanga.
Zamboanga City is located in the southernmost part of the Zamboanga peninsula. It is 700km away from Manila and it is in fact closer to Malaysia and Indonesia than Manila. The intermarriage of the Islamic culture and the touch of Spanish culture is evident in the peninsula. The Chabacano language, the Catholic faith and the patriarchal culture goes hand in hand with the Islamic religion, culture, architecture, and heritage.
We touched down at the Zamboanga International Airport, with its architecture, reflecting the Islamic art.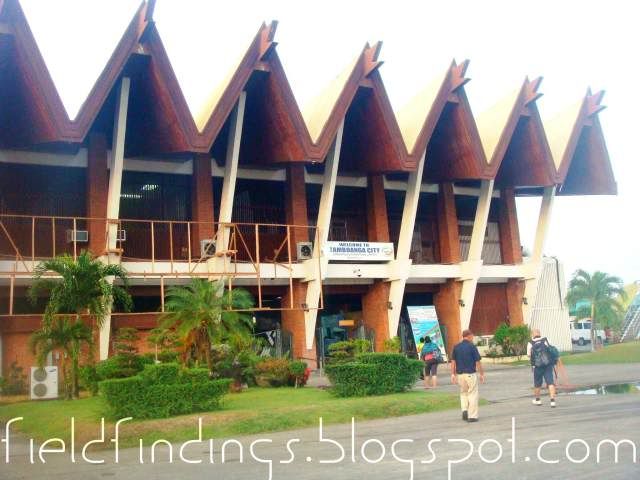 Like all Filipinos, Zamboangeños are friendly and helpful people. We hurriedly asked the police of how to go to reach their city proper. We didn't only have a direction but he got us a tricycle to bring us to our hotel at a very agreeable price.
And as we head off to our hotel, I couldn't help get excited knowing that our adventure has finally began.