Since college, me and my girlfriends celebrate Valentine's Day over food and good chat. I think we have lived with the idea that being single is totally not a reason to mope on Vday. And that even with friends, we could celebrate Valentine's Day.
So to continue with tradition, Kat and I, decided to go out and have dinner. No destination at mind, we roamed Maginhawa St., eyeing for Van Gogh is Bipolar as an option. Donday and Pino and Pipino as other alternatives. But somehow, I wasn't paying much attention when I saw Van Gogh, the first time, that I can't remember where it was. Donday, Pino and Pipino are all cramped that night, not even a parking space is available.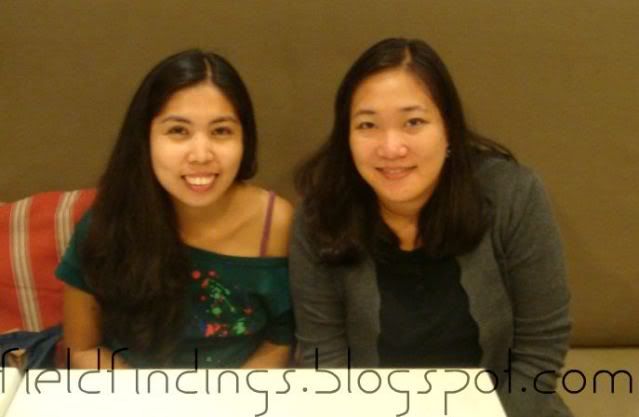 So Kat and I decided to check out UP Technohub for the mere fact that parking is bountiful. But just before deciding on exiting UP, we remembered Cafe Via Mare at GT Toyota. the last time we ate there, there are only 3-4 tables occupied so we assume that we would have a table despite the hearts season.
Arriving at Via Mare, we are amazed that it was full though we were still able to score a table at past 8PM. I think their crew is understaffed because they seem to be fidgety with the request of customers left and right.
After a thorough look at their menu, Kat ordered Tapa while I got Beef Kaldereta. I was debating with my self of wether to go with their Bangus, or Crab Relleno but seeing the Beef Kaldereta placed at the table near us, I completely forgot the two seafood delicacy and settled into this beef chunks cooked in slightly hot tomato sauce. I like the taste of their kaldereta, it reminds me of Mom's cooking. They added green olives which I gave all to Kat because I am not a fan. It is also served with fried spring rolls, halved for an easy eat.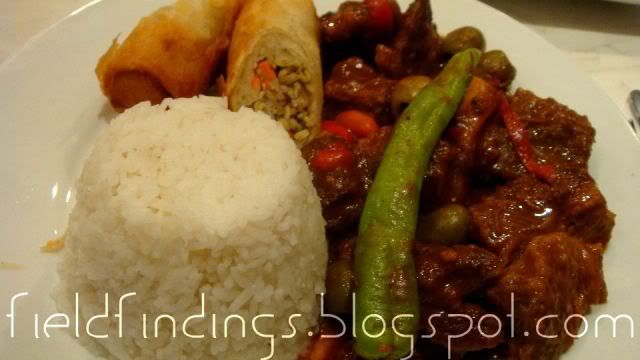 Kat's tapa is crispy and sundried. When you take a bite, it crumbles into flakes in your mouth. It was a yummy treat!!! Kat really enjoyed her dinner as she satisfied her craving.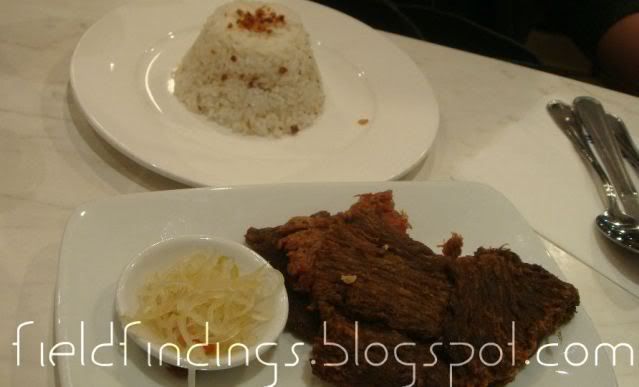 We added Oysters combination which is baked oysters served in 5 flavors. I like it with cheese and spinach (I think!) better while my least favorite is with mayonnaise. But I think I still like my oysters steamed, simple but the taste is intact. Missing home more!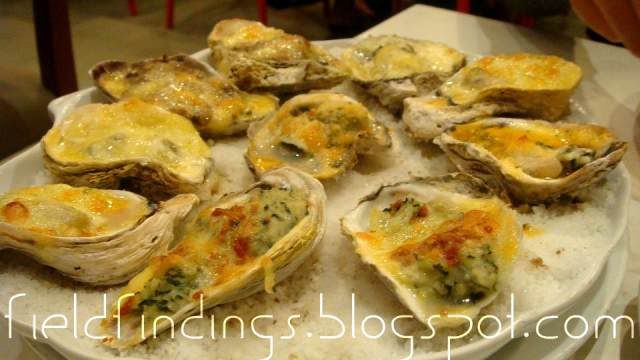 Oysters in different flavors
After the feast, we are given heart shaped white chocolates. Ahh! Vday complimentary! Just love it when its free! Hahaha!!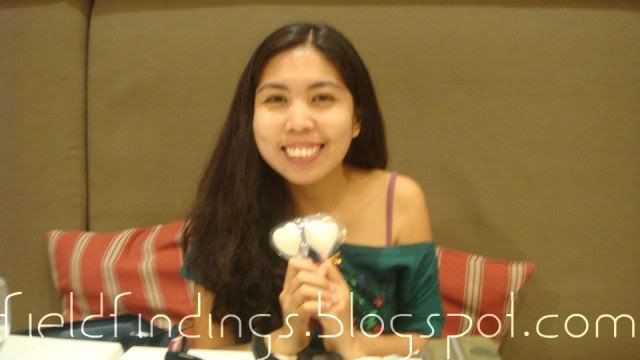 So that ends our Vday, a celebration of friendship and loving ourselves through good food. Single or (not) in a relationship, I think Valentine's day is worth celebrating....It's a good excuse to go out with the people you love and who matters most to you.
Happy Valentine's Day everyone!
-o0o-
Cafe Via Mare
GT Toyota
UP Diliman