In the College of Engineering in UP Diliman, December means Engineering Week. The academic organizations based in Engg battle against each other for the most precious points to be hailed as EWOC or the Engineering Week Overall Champion.
It was eons since I graduated. Yet I still feel connected to the college whenever I attend events during the Engg Week when I have the luxury of time. Two consecutive years now, I was able to snag some tickets to Ms. Engg, a competition amongst cross dressing straight men. You got it right. Only real straight men are allowed to be part of this pageant of pride, brains and beauty.
I was quite amazed of the transformation each contestant underwent. In their photos you would never mistake them of being guys.
Our group's favorite, Ms. GPs (Gears and Piniions) aka Fiona
I was with my brother and 2 of my college friends (who are not from Engg) and it was a laugh trip for the four of us. It was already the talent competition when we arrived at the UP Theater (gone are the days where Ms. Engg is held only at the lobby of Melchor Hall and it is free) yet we still had the best laughs ever! The contestants are all game to make a fool of themselves. Most of the contestants did dance numbers while some did song and dance. Other's just made an appearance and called it talent. Hahaha!!
During the Long Gown Competition, all the contestants showed their curves, and their walk..Take note, they are all in heels. It surely made me feel good that these men could actually relive the agony ladies undergo when wearing heals.
As the night came to a close, Ms. IE Club reigned as 2011 Ms. Engg added more points to their EWOC pot.
Ms. IE Club in Formal and Character Attire as Queen of Hearts in Alice in Wonderland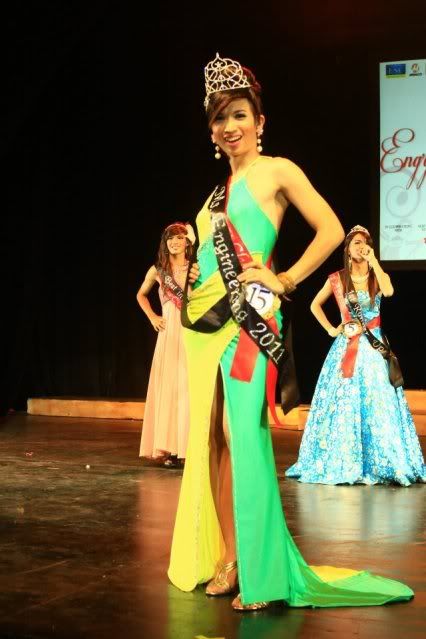 2011 Ms. Engineering, Ms. IE (Industrial Engineering) Club
All photos are from Ms. Engg 2011: Eng'gchanted Facebook