I must say, hitting the spa and getting a good knead is one of the luxuries I continue to spend on more than anything.
That's why I continue to search on discounted services from group buying sites hoping to get a good massage at a reasonable price. Spa massage always make me feel relaxed and pampered.
Last Thursday, right after work, I decided to use my voucher at Body Tune for their signature massage, the Balinese Massage. I got it from Cash Cash Pinoy for only 299Php when its actual price is

more than Php 700 for an hour of full body massage.
Body Tune is located at the topmost floor of SM North the Block. I was early by 15 minutes, my appointment at 7PM. I gave my printed voucher to the guy who managed the counter and he checked my name in their list. He invited me to sit down or ask me whether I would want to use their sauna and take a shower. I don't have extra clothes with me and I was not informed that there's a free use of sauna so I declined and took a seat at their sofa. The interiors of their welcome area is very simple: running water, some paintings, a sofa and some cushions and a small embellished Christmas tree. Typical spa music is played.
When my masseuse arrived, I was led into a small massage room and was instructed to wear the shorts they have provided. The room is equipped with a small lamp light and a pin light and is installed with a small locker. I am used to the spa routine so after getting dressed, I laid flat on my chest and waited for my masseuse to come back.
As soon as she was back, the dry massage started and then she applied oil and continue to knead my back muscles. The Balinese massage stimulates blood flow, oxygen and energy around the body to relax it from soreness.
Techniques include skin rolling, stroking, kneading, acupressure along meridians and reflexology in combination with essential oils to sooth and relax the body. The use of aromatherapy oils is essential in the correct healing and relaxation appropriate to the need of the person.
I felt relieved and relaxed after the massage. I was then offered their complimentary drinks, which I gladly ordered for a hot tea. I was also given two hot steamed towels to remove some of the oils in my body. A tip envelope was also placed together with the towels and tea.
I was satisfied with the service of my masseuse, Divine, so I gave her a relatively big tip.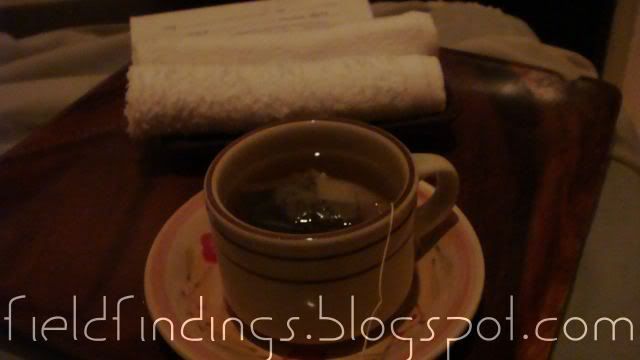 I love this type of massage because I didn't feel sore the day after unlike the other massages that I have experienced. So I think this one's worth another visit. =)