I have been a killer for great spas. With the stress I have been getting from work, school and independent living, I would often resort for great massage. And the cheaper the better.
I read on jimjilbang, Korea's public bath and I was so excited to try it. I have read about its health benefits and my curiosity on the experience had me looked forward to it. But then, course of nature had me forego the public bath when we were in Seoul. So to try something similar, I went with my sorority sis, Karla, to Wensha Spa where she had a Gift Certificate courtesy of her company. I, on the other hand, is going for a massage with my cash spent.


At Php 680, you might say, my actions are contradicting to what I just written above. Cheap at Php 680? I guess not. But when you actually think about it, the price includes 1 hour massage, use of sauna and Jacuzzi, and buffet before and/or after your therapy all doable within 6 hours. You can even sleep right after your massage if you still have time.
The only drawback, photography is not allowed at Wensha. Picture taking even at the lobby or reception area is a no no. Karla said, those are new rules because it was only in February that she was at Wensha with a law school classmate and they were taking pictures of each other. The only area where they could not take photos is at the wet area.
We were at Wensha a quarter before 12nn. After presenting Karla's GC and paid for my services, we were given a wrist band with our locker numbers. We also surrendered our shoes in exchange for rubber slippers. We opted to eat lunch before going to the wet area and the massage.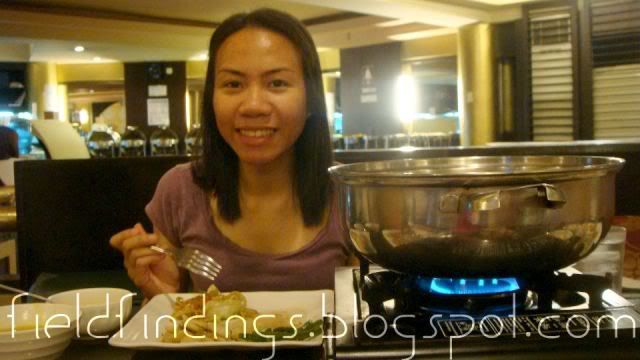 Sis Karla, my Wensha Spa partner in crime
Buffet had chicken adobo, string beans, squash soup, pancit, rice and some sort of squid with vegetables in Worcester sauce. Shabu shabu was also served although I was disappointed because the balls are not as tasty. Four seasons and pineapple juice are also available.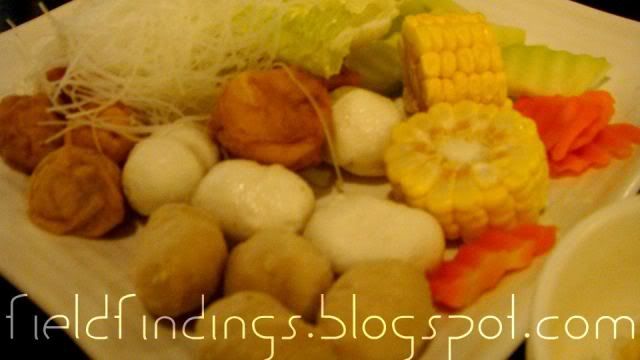 The dining area is filled with flat screen TV. It is encouraged to finish everything in your plate. Leftovers means paying an extra 300php. The food is not to die for but enough to fill your hunger. It took us a long time to scrape our plates clean.
After the buffet, we proceeded to the wet area. The massage rooms are also in this part. Males' wet area and massage rooms are separate from the females'. We were given a towel and bathrobes and was told that when we use the jacuzzi the sauna, we have to go naked. I already knew about this and I was ready for it but when you are actually there with the rest of the female customers (there are about 10-12 others), all the guts you have mustered will be totally evaporated.
After changing into our birth clothes and only the towel covering us, we proceeded to the jacuzzi and dry sauna for almost an hour of warm hydrotherapy. There 's flat screen TV to take off your mind on your nakedness and the fact that there are hanging breasts around you.
After that we waited for our turn for the one hour whole body massage. It was a holiday so the spa is jampacked. Good thing someone is taking our locker numbers and line us up first come first served basis. So it was organized. There are about 5 massage rooms with 6 beds each. The massage is very relaxing. I actually dozed off though there's no spa music to set the mood and there's chatting from the customers waiting for their turn.
My good friend Karla woke me up 30 minutes before our time to run out. I hurriedly got dressed and we then again went back to their dining area for merienda. they served Chinese dumplings like siomai, siopao, fried lumpia, sharks fin and beef stew. Again, there's free flowing drinks of pineapple and four season juice.I love their siomai and sharks fin!
I like my experience at Wensha. Although it is very awkward to be naked in front of other nude women, I think I could come back for another visit. The facilities are great, the food is alright and most especially, I love my whole body massage!
P.S. All pictures except Wensha's Signboards are taken sneakily. Sorry for disobeying rules. =P
-o0o-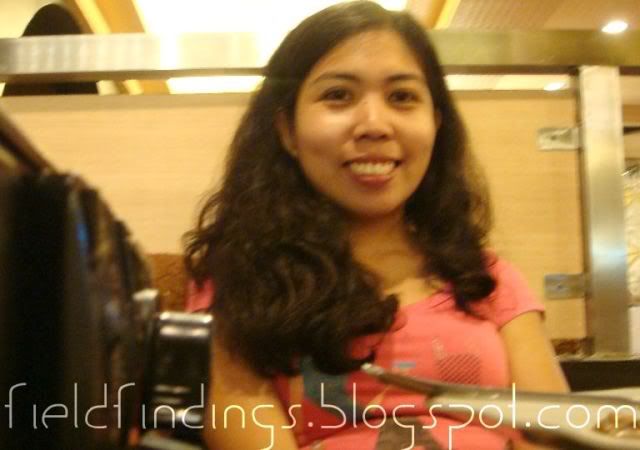 Wensha Spa
77 Pasda Mansion,
Panay Ave. cor Timog Ave.
Quezon City