Because gates were closed at Gyeongbukgung Palace, Kat and I decided to look for the nearest palace for which we could experience the Korean royalty. I could remember Kat's reply to her mom's question when she asked why we are going to South Korea and what would we see there, one of Kat's replies was to see the palace. My closest knowledge on Korean palaces are those seen in telenovelas, Jewel in the Palace being one of them.
Our feet has led us to the Gwanghwamun Gate (still part of Gyeongbukgung) after asking so many Koreans of where we could find the other three palaces: Deuksugung, Changgyeonggung, and Changdeokgung. And with the Seoul City Bus Tour map as our guide we realized that right across is the Gwanghwamun Square!
Excited, we crossed to Gwanghwamun Square to see what is in store for us.
Gwanghwamun Square was initially the grand entrance of the Gyeongbukgung Palace. Its construction in 2008 has reduced the 16 lanes to 10 lanes and now gives tourists and locals alike a historical and cultural experience.
Astatue seen at Gwanghwamun Square is of King Sejong. It has the height of 9.2 m and weight of 20 tons, it sits in front of Sejong Cultural Center which houses galleries like the "Sejong Story".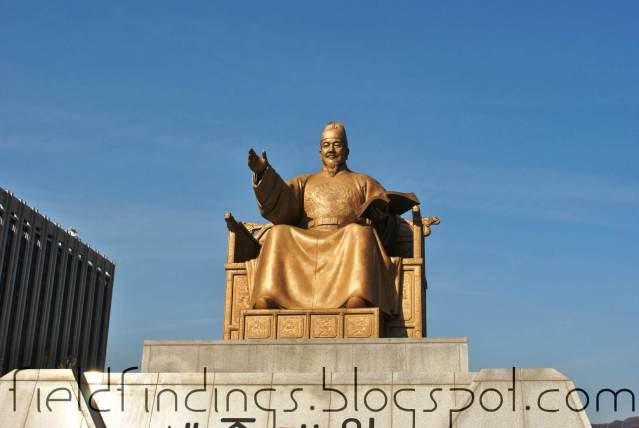 King Sejong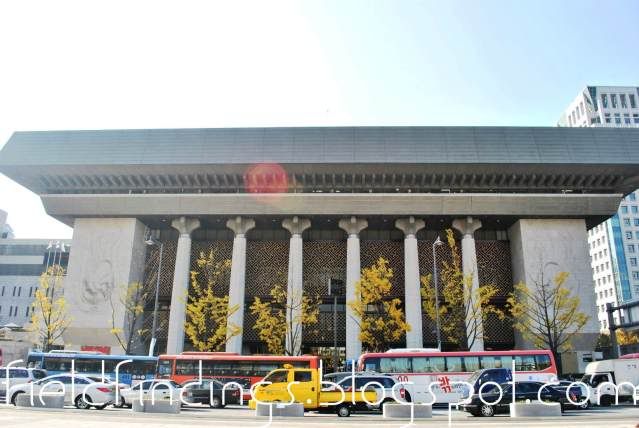 Sejong Cultural Center right across
In the middle is another statue of Lee Sun Sin. I have read and seen pictures of the Music fountain so I was looking forward for it to come alive but I was dismayed. Just behind the Lee Sun Sin Statue is an area information booth, souvenir shops, cultural gallery, meet up places and restrooms.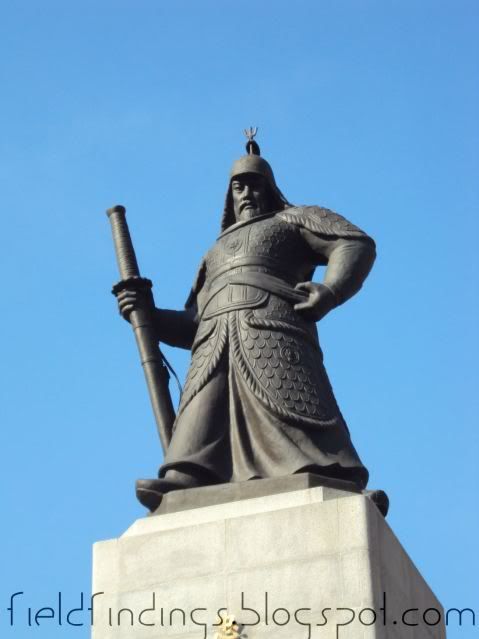 Lee Sun Sin
In between the statue of Lee Sun Sin and the gallery, there were Koreans managing a rack of King's and Empress' robes. For free, you could borrow and have your picture taken in it. They just need you to accomplish their signature sheet. So Kat and I grabbed the opportunity to play dress up. Though we weren't able to have our pictures taken in a Hanbok, South Korea's traditional dress, we got to wear a royalty's dress!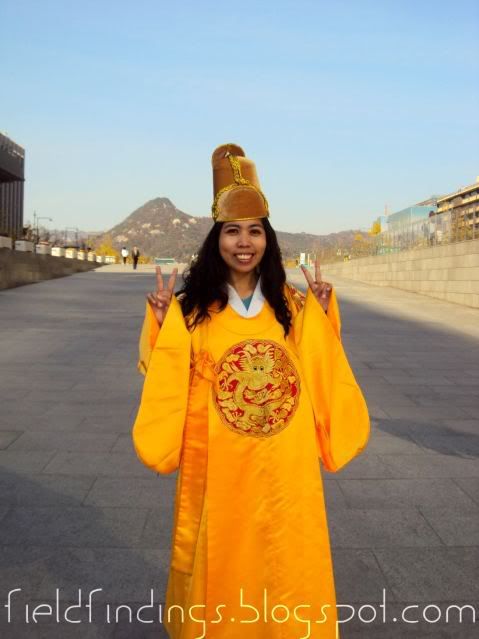 Moi as an Empress!
So I have not gotten my music fountain nor the flower carpets but I got to experience being royalty even for just mere 5 minutes. That made my visit at Gwanghwamun Square special, =)
-o0o-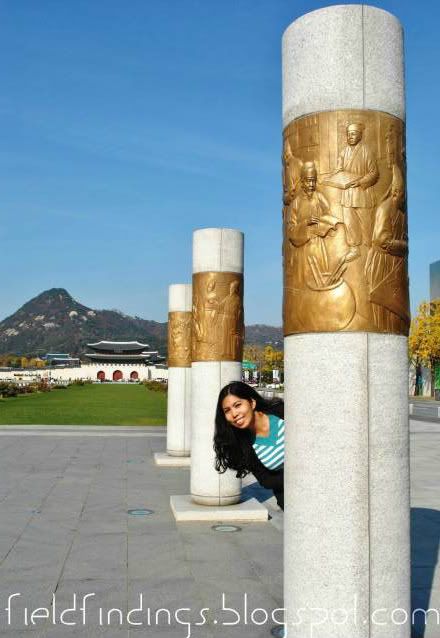 Gwanghwamun Square
Seoul, South Korea