Last night, Dulaang UP opened another production to theater goers with Noli Me Tangere: The Opera. So after work, I went to Wilfrido Ma. Guerrero in UP Diliman to witness its premiere.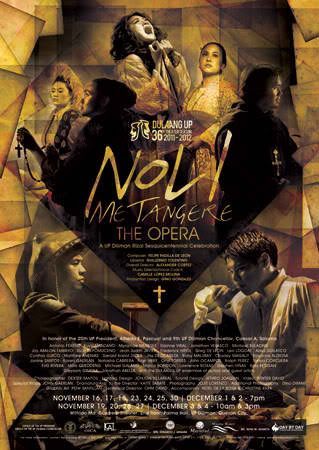 The opera was based from our national hero, Jose Rizal's novel of the same title, about the love between Crisostomo Ibarra and Maria Clara. Crisostomo Ibarra was alledged as enemy of the state while Maria Clara has known she was the daughter of a friar (Padre Damaso), their relationship was put into a test of hardships, disapproval and separation.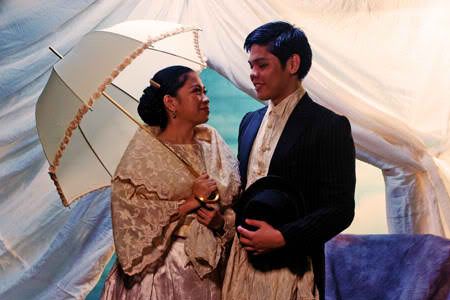 Maria Clara and Crisostomo Ibarra
Characters like Doña Victorina and Pilosopo Tasyo respectively gave a vivid picture of a Filipino wanting to be Hispanic and a Filipino proud to be born one. And who would forget Sisa and her sons Basilio and Crispin who were caught in a fateful circumstance that lead his son Crispin to his death, Basilio wounded and Sisa insane.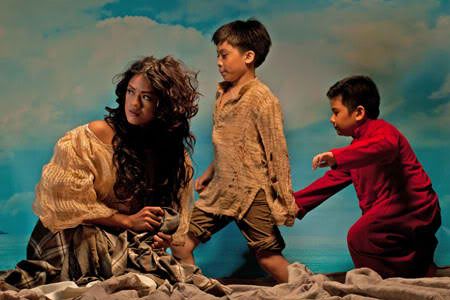 Sisa, Basilio and Crispin
I love how this production is enormous yet simple focusing only in the basics of an opera: pianos, voices and acting. You have to listen to the lyrics as most of it are kundiman. But don't be intimidated as you could easily understand them. The singers have powerful voices even to the youngest of the cast who played Crispin and Basilio. The materials and costumes were indigenous with bamboos as the back drop and inabel cloth intricately hand woven as fabrics.
Catch Noli Me Tangere at UP Diliman. It's a great experience hearing Rizal through a kundiman.
-o0o-
Noli Me Tangere: The Opera
Dulaang UP
Wilfrido Ma. Guerrero
UP Diliman
Show runs from Nov 16 until December 4 (Wednesday to Friday, 7PM and Saturday-Sunday at 10AM and 3PM).