I must have gone mad last night. I know for sure a soul who is a glutton in his past life had possessed my body. Up to now, I can't believe I did what I did. =P
Yesterday, our company gave out our 13th month bonus. Finally some extra cash! And so before going home, I thought of buying myself a decent dinner. I want to treat myself. After all the saving mechanisms and stingy extraordinaire activities I have been doing, it is about time to get myself some tasty food. I was at Berkeley Square in Tandang Sora so my choices are limited.
And I saw that bright yellow sign. Taxis are honking, calling me to enter Yellow Cab Pizza. And so I did. It has been months since I had Yellow Cab. So I thought, what the heck! I'm ordering Pizza for tonight.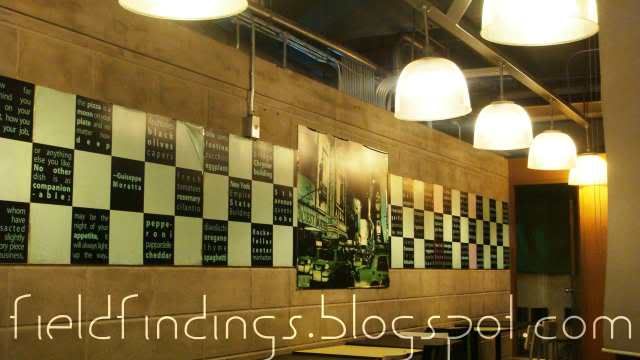 After much scrutiny at the the menu by the wall, I saw Dear Darla standing out because the font size is scribbled, instead of the formalized font. I was intrigued. So I ordered one 10" of Dear Darla, added Charlie Chan Chicken Pasta and Baked Potato Wedges. The staff taking my order asked me if I would have it taken out. I told her I'm eating at their resto. And so she asked me if I am with somebody. I told her I'm eating alone. I know she must have thought I was crazy or I was without food for eons that I could actually finish all the food up.
But that's the problem with Yellow Cab, the food is great yet you have to share it with somebody or a group because they don't have single servings. Because I crave for great pizza and Charlie Chan, I just have to deal with the big servings (good for sharing) and pay more.
My Potato Wedges and Charlie Chan almost came together. The baked potato wedges are sliced potato fingers seasoned with pepper and baked to golden brown. It goes quite well with the sour cream dressing.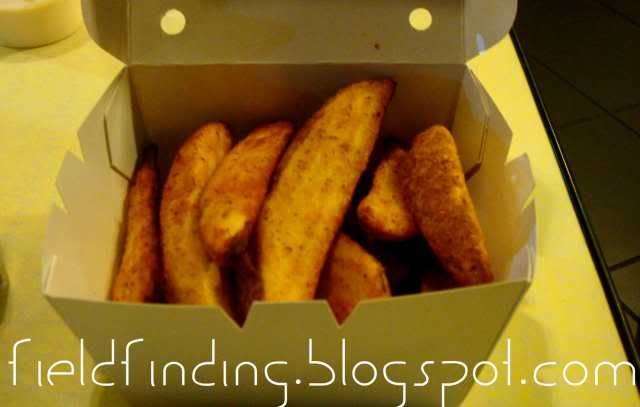 The Charlie Chan Chicken Pasta is boneless chicken strips with shitake mushrooms, and roasted nuts sauteed in an oriental sauce. This is one of my favorite noodle recipe. What I like about Yellow Cab's CCCP is the good mix of the sweet and spicy taste. I love spicy food so this is bravo for me! I was quite happy with my Charlie Chan, it is not too salty just like the last I had when I treated my team.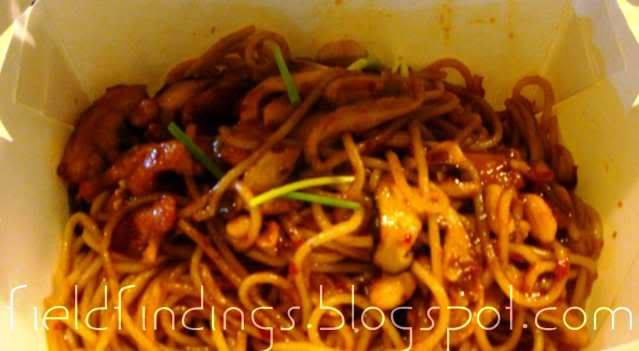 Charlie Chan Chicken Pasta,
When Dear Darla arrived, I was given a thin 10" pizza topped with tomatoes, onions, pepperoni, olives and mozzarella cheese and another box of veggies. I looked confused. I think the staff noticed my reaction, she offered to roll up the pizza for me. I thought it would be fun to actually proceed with making the Dear Darla Pizza, I declined the offer.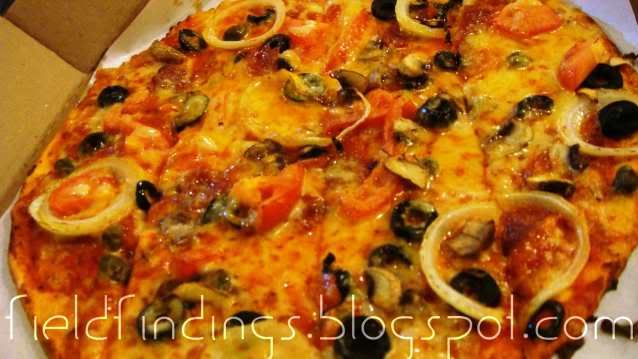 Thin Pizza
+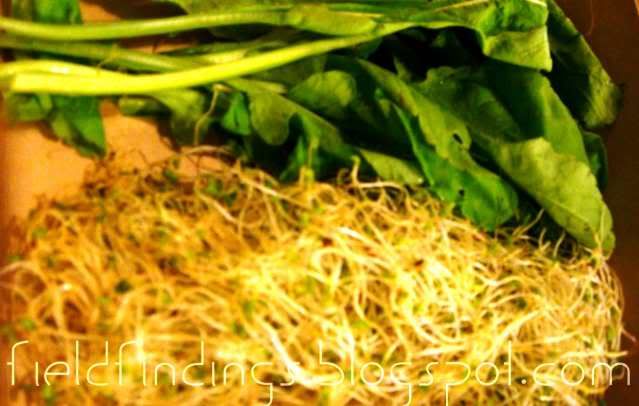 Aragula Leaves and Alfalfa Sprouts
=
Dear Darla Pizza
Following the picture posted just below the menu, I got a strip of pizza, on top, I layered the aragula leaf and finally the alfalfa sprouts, sprinkled chili oil, rolled up the pizza and took a bite. It was fabulous. The aragula leaf and alfalfa sprouts are some additional herbs to enhance the taste of the pizza. The aragula leaf gives a tangy taste while the alfalfa sprouts gives a cool and refreshing twist. Collectively, this pizza is a delight.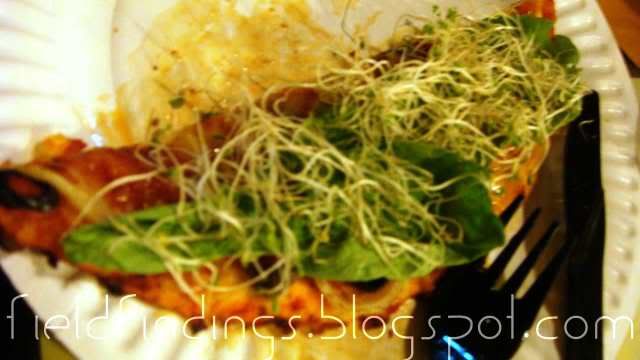 Step 1: Layer the Pizza, Aragula Leaf and Alfalfa sprouts
Step Two: Roll the Pizza
Step 3: Take a bite
Dear Darla Pizza has its name rooted from the very famous movie of little kids and puppy love, the Little Rascals. This is popularized by the scenes of Alfalfa writing Darla, his love of his life, a love letter. I loved that youth and innocent themed movie. It is surely a witty way of naming the pizza after Darla considering that one of the main ingredients of the pizza is alfalfa sprouts.
I think Dear Darla Pizza gives us the guilt-free experience while eating pizza. You get to enjoy the taste of freshly baked pizza and garden fresh leaves all in one bite.
I didn't finish my meal though. It was too plenty for a skinny toad like me. I brought my leftovers home for another delightful Yellow Cab experience. I'm bringing them at the office for lunch! =P
-o0o-
Yellow Cab Pizza
Berkeley Square
Tandang Sora Ave.
Quezon City