My mom is a plant and flower enthusiast. Our garden is a home to various orchids, anthoriums, and bromeliads. In one point she has a lot of roses of varying colors that we even supply these flowers at the small flower shops infronting Bacolod's Cathedral. In another point, mom grew palms which was also a winner for landscape artists in the province. So you see my mom has a green thumb and a green taste.
For mom's last day for her Manila visit, she suggested to drop by the orchid show at the Quezon City Memorial Circle. I didn't even notice the banner at the Circle but mom surely had her eyes out for orchid shows and plants fair.
The trade show at the QC Memorial Circle is hosted by the Philippine Orchid Society in partnership with the Quezon City local government. Good thing mom dragged me to the show because it was actually the last day yesterday with their 12 day show.
Mom bought Thailand santans. The difference with our usual santans are its flowers: it is very big. Mom got 3 colors: deep red, orange and yellow for Php 50 each. We had the soil taken out and wrapped the roots with moist newspaper for a much lighter baggage.
Here are some finds at the orchid show.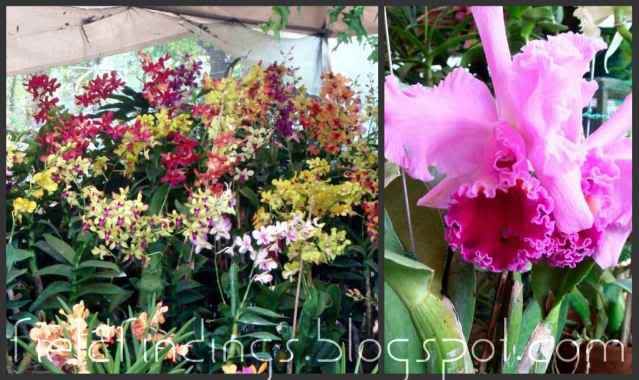 Orchids and the beautiful Waling-waling
Greens

and other species of plants...
Green thumb or not, you would surely love clicking away at these wonders.