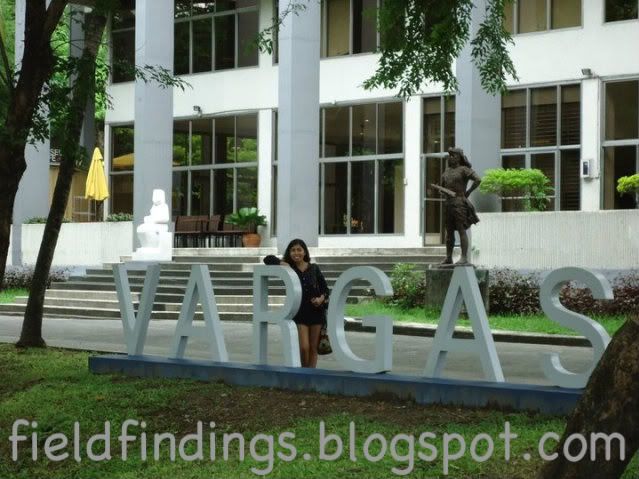 I have a thousand attempts to enter the Vargas Museum. As I always ride the UP jeeps going to my classes, and passing by the Vargas Museum, I always have a quick head check of my schedule as to when I could squeeze in Vargas Museum. As it has never been a requirement in any of my Humanities subjects, I never was obliged to get into Vargas. But for pete's sake, I have once lived inside the campus, and now I am working just at the back of the campus yet I never had the time to visit. Talk about being lazy or my art bug has bitten me 10 years late.
Yes, late as it seem, it was just today that I set foot at Vargas Museum. In celebration of Independence Day and our great national hero Jose Rizal, Vargas Museum featured works from various artist in relation to the life and works of Jose Rizal. The theme of the artworks on display is "Looking for Juan". These are the same artworks in banners surrounding the academic oval. All of the artworks were at the ground floor and good thing picture taking is allowed except in the second floor.
In the second floor, you can find paintings and drawings of legendary and national artists of the likes of Juan Luna, Felix Resurreccion - Hidalgo, Fernando Amorsolo and Victorio Edades. Sculptures of Guillermo Tolentino and Graciano Nepomuceno are housed with artworks of UP graduates from the 50s ad the 60s.
In the third floor are acclaimed videos as well as artifacts written in spanish.
UP students, teachers, employees and alumni are charged Php 20 as entrance fees while Non-UP are charged Php 30.
-o0o-
Jorge B. Vargas Museum
Roxas Avenue, UP Diliman
Quezon City
Phone: 63 2 928-1927