I'm 27 today. Seems really old but it doesn't matter because I am at the point where I could say I have enough. I have my family. I have a lot of friends. I have work and I go to school. I am fulfilling my dreams. But among other things, this year I risked it in love.
Birthday Roadtrip
Today, I met up with Ron to go to Guintubdan at his hometown in La Carlota. Yikes! I know, it is my day and he should be doing the effort to visit me. But I didn't really plan on anything for today. All I wanted was to spend time with family and with Ron. I have planned to go to Mambukal and just laze around but my family is busy with business that I could not drag them to the resort. So it was Ron who persuaded me to go to La Carlota instead.
Loaded his motorbike, we drove about 30 minutes from his house to have a nature trip and have relaxing dip in the cold waters from the falls of Guintubdan which is located in the mountain area of the city of La Carlota. Sad about the place though is that it was not maintained very well by the government. Picnic tables are dilapidated and the rooms are not available for rent because it was not cleaned, no beds available and it is used as a storage area. The falls in the middle of the mountains is the majestic scenery that would just capture you. It would take about 10 minutes to hike down towards the falls but it was worth all the wait. Cold waters enveloped my being when i took the dip. When we were there, the place was empty. All the more that I got excited because I could strut my bikini without having the whole town scandalized and the people talking and staring at me. I just don't want to be stared at. The place is not Boracay that people are used to people in Bikinis. It was awesome! After about 20 minutes, we were joined by a group of teeners so Ron and I decided to leave... hahahaha!!!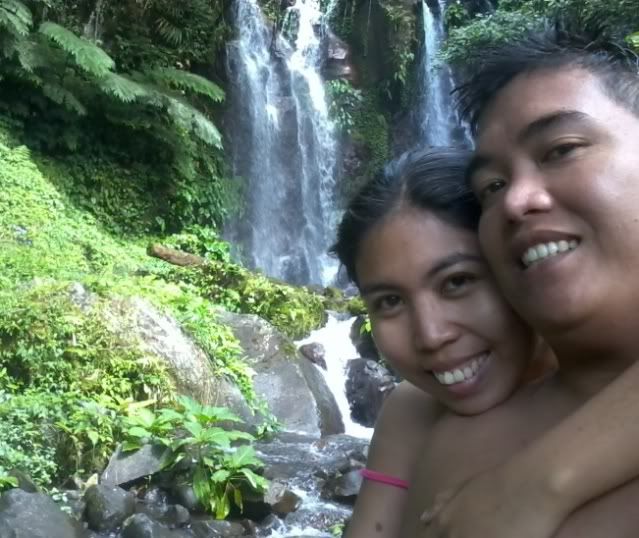 We then took our lunch at a Chicken place where we had loads of food with a bill so small. Waaaaahhh!!! I love the life at the province. Cheap but tasty food....the life!
Before going back to Bacolod, we went back to his place to just pay courtesy to his mom and sister. Just spent time at their place, with a good massage from Ron. :) So that is my day with Ron and how we spent my birthday together.
Birthday Dinner
Spent the night with my family at a sumptuous dinner at one of my favorite restaurants in Bacolod, Apollo. I miss all the good recipes like Ox Tongue, Sepo, and Fried Chicken with chicharon. So following tradition, I urged the whole family to celebrate with me at Apollo. We went to the branch at 888 when the main branch doesn't have my usual favorites. We have requeste the main branch to call up 888 to check availability of our order and we were assured that they would be able to prepare all of them. When we arrived at the 888 branch, the food was prepared and we have all the place to ourselves. It was like the place was reserved for me! The waiters are accomodating and they were willing to take our picture... it was a good night.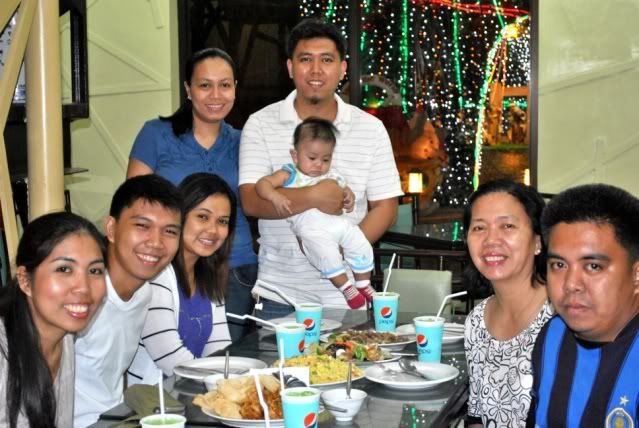 After that more pictures were taken at the big Christmas tree of 888.
So today, I am a year older. I have aged but I know I am very much loved and blessed!