Booked the flight months months ago... then a month from the trip, our Air Phil flights got cancelled. After a lot of bargaining, we got rebooked but this time our carrier is PAL. What a blessing!!!



Sept 17, 2010. Day 1




The day was chaotic with FM School revalida giving me a nervous wreck. Left the office around 2PM to catch a 435PM flight.. Yikes! Cold sweats all over me as we are caught in traffic after traffic not to mention, the very slow taxi that my brother and I were in.





Good thing we got Business class tickets so amidst being at the airport 30 min before the flight, I got in and was then directed to Mabuhay Lounge where I met up with my friends Joan and her bestfriend Joyce, my partners in crime for this vacation... merienda is served while we chit chat, killing time waiting for our plane to arrive.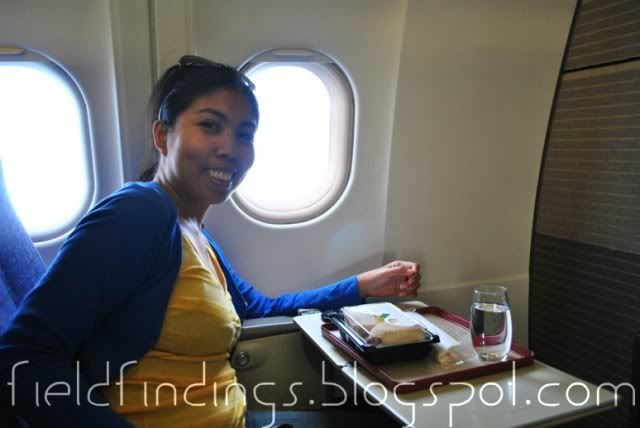 It was my first time to fly Business class at PAL so this is one big blessing for me! There's not much difference though except for more leg room and there's a complimentary food served.
Touchdown at Kalibo around quarter past 6PM. We then loaded a van that would bring us to Caticlan. From Caticlan we loaded a huge bangka to bring us to the islands of Boracay.
Because we don't have reservations, I asked Jiggs, a colleague who was assigned in our Boracay Project, to find us an accommodation. Joan's family who were also there for a vacation invited us to stay for a night at La Carmela de Boracay as their is spacious to accommodate 3 more people.
After we left our things at the hotel, we went out for dinner as our stomachs are crying out for food. We walked along Station 2 and decided to hit the Talipapa and ate a random diner. We were too hungry, we don't mind where we are and what we're eating as long as it is something familiar.
After that we walked along the beaches towards Station 1 and we passed by firedancers doing exhibition. It is actually amazing.. They require "donation" though and they don't accept coins. Hahaha!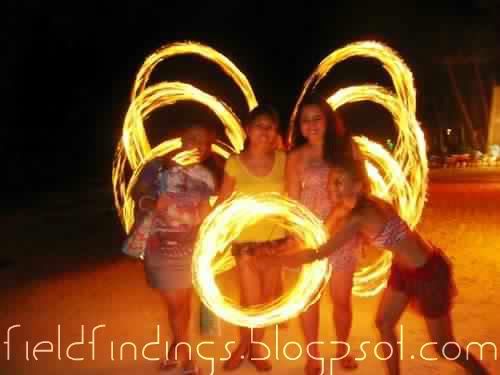 The rest of the night we spent on taking shadow shots of ourselves which is doable for low lighting.


We then returned to La Carmela for a good night sleep.


Read our second day at Boracay here!