Weekends during highschool, we used to hang-out at Boy's place. Even get-together during school breaks, we gather at Boy's house. We usually meet up at Lopue's East for grocery of our lunch or merienda and load a tryk to their house. We bond through cooking, eating what we have come up, mix of drinks (sometimes wine courtesy of Tita Evelyn, Boy's mom), and watching TV.
We miss that.
So just before going back to our busy lives, we once again gathered at the Gajardo Residence the way we used to... =)
Len and I met up at Lopue's East. I was a bit running late so Len did the grocery ahead. Our menu is lasagna or baked penne, but we settled with baked macaroni for there are no longer any pasta in the grocery except spaghetti and macaroni. We also added a half gallon of ice cream just because they are giving out another one half gallon for free!!! Hehehe!!!
Mahiligon gid kami sa buy-one-take-one!!!
Before going to Boy's we first dropped by Pink Elephant to check on their stocks of Havainas since I don't have a size at Robinson's. I guess, I have to get my pair of havs from Manila as I don't have a size anymore at any store carrying the merchandise.
Upon arriving at Boy's place, we executed to work on our pasta. With three "chefs" in the kitchen we arrived at a very sumptuous merienda of baked macaroni and garlic bread. That's, I guess, an improvement from what we used to cook of spaghetti or home-made pizza. Johnnar brought us drinks as well as Tita Evelyn who just arrived from a party at their church.
Just before we were on the desserts (yum! ice cream!), Len got a call from her mom saying that she needs to go to Riverside as her lola who is critical is doing roll call of her grandchildren saying she is seeing "people" fetching her. So we went with Len outside the garden area to wait for her cab and while doing so, we feasted on taking photos as proof of this gathering.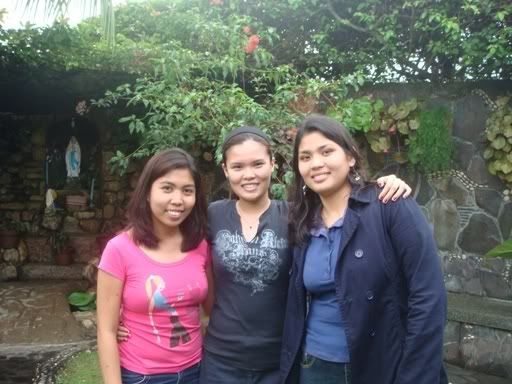 After Len left, we waited for 5PM to attend mass at the church near Boy's place. This is part of the initial plan, just like a few years back. We just hang out at Boy's TV area watching movies at HBO and then reruns of American Idol. Though threesome (Boy, Johnnar, me), it never felt three's a crowd... especially with the couple, they make sure you won't be the third wheel.
After the mass, I headed home. And as I do so, I contemplate as how much I have miss my girls... hehehe!!! I was only with them for the fun Sipalay trip last November 30... but with a short span of time, I missed them. With the fact that Diane and Kat are now in the States, and Boy who will go there too this January, and Frae who I seldom got to see because we just could not make our scheds work for us to meet here in Manila, and Len who I only got to see everytime I go home, I am sad that as much as we love to meet up, but we can't. We have so much to do together but we have so little time. But that is the secret of the friendship we have kept and shared for more than a decade.... it is the longingness to be with one another. =)