I rave about plays.. and watching them. I would not pass up the chance to watch one. Often, I would search through the net of what production in on-going around the metro and if my schedule allows it, I would just go and watch.
Talk about expensive addiction.. good thing there are free ones.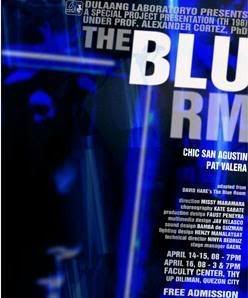 The Blu Rm
I was able to catch the thesis presentation of the graduating class of the theater students of UP last April 16, 2008 (Friday). Under the production of Dulaang Laboratoryo, The Blu Rm is a 10-act play presenting a new perspective of love, lust, desire, sex and sexuality. It consists only of 2 actors, Chic San Agustin and Pat Valera, but the characters they play presents how and where love, lust, desires and sex are often found. A difference from the plays I have watched and made it unconventional was that it used digital theather.
Although there are a few things to be polished, I think the play was good enough plus the story was very simple and easy to deliver to its audience.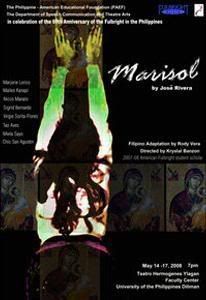 Marisol
What would happen if our guardian angels would rebel against God? What would happen if they would leave us with all the dangers of the world? What would happen if our faith could no longer protect us?
That's the central message me and my officemate Bernie got when we catched the free play, Marisol last May 14 at Teatro Hermogenes Ylagan in UP. Marisol is a surreal story of an apocalyptic Manila, where it is in the verge of collapse from poverty, disorder and violence. It revolves around the character Marisol, as she battles out for her life, for her friend, and for her sanity.
Marisol is a presentation of the Fulbright Program in the Philippines. It is originally by José Rivera and was adapted by Rody Vera. The director, Krystal Banzon, is 2007-08 American Fulbright Student Scholar with collaboration of an entirely Filipino cast, design, and production team.