I rave about plays.. and watching them. I would not pass up the chance to watch one. Often, I would search through the net of what production in on-going around the metro and if my schedule allows it, I would just go and watch.
Talk about expensive addiction.. good thing there are free ones.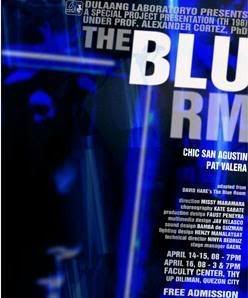 The Blu Rm
I was able to catch the thesis presentation of the graduating class of the theater students of UP last April 16, 2008 (Friday). Under the production of Dulaang Laboratoryo, The Blu Rm is a 10-act play presenting a new perspective of love, lust, desire, sex and sexuality. It consists only of 2 actors, Chic San Agustin and Pat Valera, but the characters they play presents how and where love, lust, desires and sex are often found. A difference from the plays I have watched and made it unconventional was that it used digital theather.