My brother haven't been to Manila Zoo.. and it has been a year since he went here for College. So for today's gimick, he suggested that we go to Manila Zoo. He has been an animal lover. And among us four, he's the one who has pets of fishes, rabbits, dogs, pigs, quails, geese, ducks and chickens. He used to have pigs and made a lot of money from them.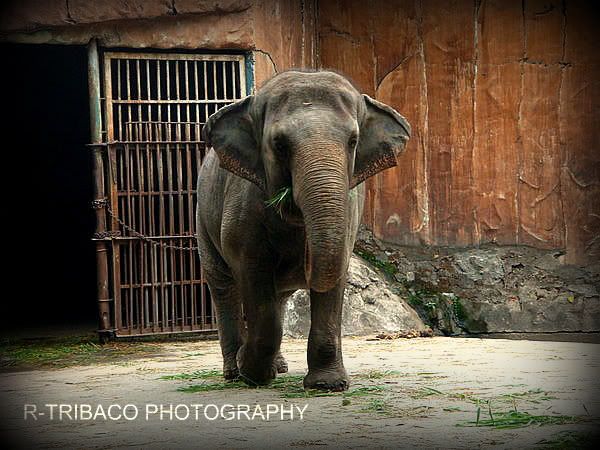 An Elephant greets you as you entered the Zoo
So we searched our way, and after a few questions to strangers on how to get there, we found ourselves queuing for tickets at Manila Zoo in Quirino Ave.
The entrance at Manila Zoo was cheap which is a good thing. For non residents its Php 40 for adults while Php 20 for kids. For those who resides in Manila City, it is half the price.
This has been my 5th time,and it never fails to disappoint me seeing that it is of low maintenance...
Ung mga monkeys parang walang kabuhay-buhay
... owel, captivity will surely make you feel that, I guess. And the windows of the reptiles, it seems that it has been a century since they have cleaned it.
The fun part of the visit though is the Kinder Zoo. It was my first. You could actually touch and interact with their pets... snakes and parrots and cockatoo will be placed in your shoulders and arms. You could also put an arm at Erica, the ostrish. Some children could actually ride Erica. We were also amazed at the 15-year old tortoise.
swarmed by the parrots and cockatoos
sitting on more than a decade old tortoise
friends with Erica, the Ostrich
The highlight of it all, is carrying a croc..
Manila Zoo is open from 7AM to 6 PM daily. Just avoid joining the crowds during weekends.
Getting There: Take LRT and get off at Quirino Station. Ride a jeepney going to Mabini or Harrison. Then request the driver to drop you off in the zoo. Manila Zoo is located at the corner of Harrison and Mabini Streets, in
Quirino
Ave., in Adriatico St.,
Malate
,
Manila City.