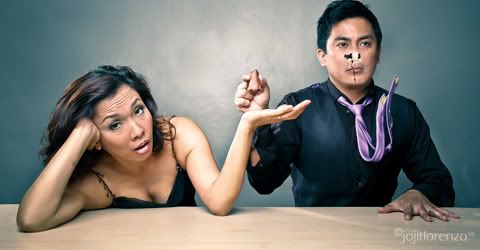 If you have the opportunity to change your self physically, would you grab it? If you would have someone else's face or somebody's frame, what would you exchange to take it? Would you let Belo or Calayan put a knife in your skin? If you'll be offered a face-lift, a lyposuction, a tummy-tuck, a nip here and there, would you endure the pain for the sake of beauty?
I was able to watch Skin-Deep, PETA's February offering. The play is written by Vincent de Jesus and tackles on artificial beauty. Dr. Beau, a world known cosmetic surgeon opened a one-stop beauty haven where 7 lucky text winners will be able to stay and have the procedures (to improve themselves) they want, all for FREE. And the lucky ones: an extremely obese call center agent, a married couple who have a rocky relationship, a probinsyano who aspires to be a model, a gay florist who wants to look young so as to be valuable in the market, a battered wife who was burned to unrecognition by her husband, and the reigning Ms. Artificial Beauty who has undergone to more or less 50 procedures.
In the course of the play, each character were swans in themeselves but upon the transition, they were not able to find the happiness they were looking for. The play reflects us who are in a continuous plight to be accepted in a world who only accepts superficiality. It cuts deep the truth that we change and opt to be beautiful not for ourselves but for others. We opt to be beautiful to be embraced.
-o0o-
There are a lot of times that I wished I am this and that. During my puberty years, I longed to have lighter skin or a few more inches in height. I longed to have
very
straight black hair (the reason why my hair has gone from hot oil, hair spa, relax, "rebond" etc.) or very straight and shining white teeth. I dreamed of a clear skin, with non-visible pores. I have gone through a lot of diets hoping to achieve and or maintain my ideal weight. I wish for perfection.
But now, though I'm still a mess, I have accepted and learned to love myself. I love my morena looks. I confess, I still use skin products to
protect
my skin especially now I'm doing field work.I have accepted that I have to rely on heels as I won't grow, even just a few centimeters. I still go to the salon to get my hair fixed but I haven't gone through another procedure with my hair (as of.. hehehe!). I'm still a fan of beauty but there is a difference between vain and just being beautiful...
...although sadly there is only a thin line separating it.
-o0o-
I so love the play... there is a lot of humor and ridicule in the play but you have to open your ears as the audience may have side comments and you will be left to not hearing the funny lines. The simple set is also very effective. This is my first Peta play and definitely I'll be watching more of it.
Two thumbs up!!!