24 Oras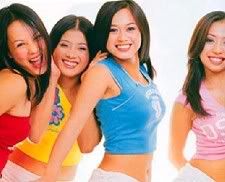 I sometimes come home late that I oftentimes miss out the rest of 24 Oras but the last segment of Chikka Minute. I'm just so tired of hearing the intrigues about the Sexbomb Girls having problems with the management of Eat…Bulaga!. When would it end? And who is this Sugar, who I think has to tighten her nuts a bit, and how did she became the pet of Eat…Bulaga's Bossing Vic Sotto and Joey de Leon and one of the reason's of the Sexbomb girls being out of the noontime show? I've seen her guestings in Nuts Entertainment and she is really slow and tactless. She is somewhat a laugh at first but I ended up irritated in the end.
I don't really care who's telling the truth or who are just persuading the people to believe them. I just want to come home into a more worthwhile news than that. For the Sex Bomb, truly Eat Bulaga has made you but the group is almost a decade old. If you have exsisted for that long, and if you are really that good, then prove to the televiewers that with or without Eat Bulaga, that career is going nowhere but up.
Extra Challenge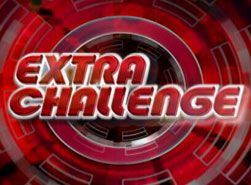 It all depends on the theme of the challenge. And this week's challenge involve the kids, which I think was the first time they had as challengers.
Hmmm…I think Paola Bediones would be a great dad. He really is good with kids. Hayz he really deserves somebody. And I hope he's not gay, I mean… nobody seems to be linked with him, even just for chismis' sake.
-o-
Paolo, ako na lang kasi ligawan mo…magpapakasal tayo agad!!! Pwamis!
Majika.
Tonight's the premier of Majika, the newest magical fantaserye of GMA Network. I'm not intrigued really, having been a follower of Encatadia then leter Etheria then returning to Encantadia, GMA has proven itself with making fantaserya without limiting it with special effects, not to mention very beautiful costumes, so I know, that effects and animation wise, this is really good, I just don't know acting ability and storyline.
I just can't understand why again its Angel Locsin. Ok, she is beautiful, but her's is
nakakasawa.
I just thought that they would have given the role to somebody else. I mean, this is like watching Darna with a different characters, setting, costumes and effects. Now, I'm seeing Angel, flipping her cape (a cape from the waist) like she knows what she'll do to ther enemies. Nakakinis.
But GMA really amazes me of how such a small network (as compared to ABS CBN), could manage giving the Filipino people these kinds of shows. It seems like they have upgraded the Filipino's talent and skill in animation and special effects. We could actually compete abroad. I just hope they could hold and sustain a good story to feed curiousity and keep me coming home early to watch it.
-o-
The whole concept is similar to Harry Potter!!!
Encantandia
The longest I've been following...I remember last summer while having OJT at Bulacan, I saw to it that we have TV at the house just for Encantadia. But the story then was the fight against the sisters. Now, their enemies are the Etherians.
There are actually good actors in this telefantasya but there are a lot that i want to comment on. Take for example Jennilyn Mercado who has no diwata aura at all, let alone that he has mortal antics like there was no tomorrow. And there was JR whose role is suppose to be a robber, but his slang was so evident. And now Marky Cielo has joined the team and he has to straighten his tagalog.
If not for the costumes and special effects, Encantadia will not be on this list, I wouldn't waste time hanging on the sofa!
My Name is Kim Sam Soon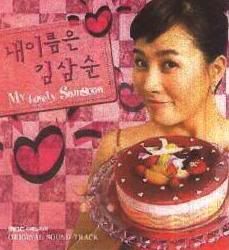 I really love this Koreanovela. This is Girl Power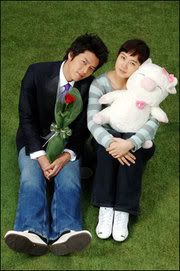 to the highest level. Sam Soon never fails to give you a laugh with the way she delivers lines, answers her boss, Cyrus (my labs), how she conquers her challenges especially with her lovelife and worries on being single at 33, not to mention her name, complicated family, and restaurant co-workers. Include also the yummy and mouth watering cakes, pastries, bread, etc. she is making, I would leave everything and go home and spend sometime in the couch (stop dreaming, it's just a sala set).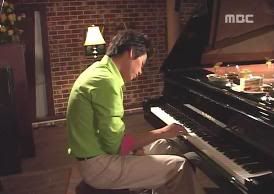 And though you would like to hate Cyrus, I ended up liking him even more, wishing that I would take either Hanna Yo (his current love, the "3
rd
party") or Kim Sam Soon's place. He is a romantic enveloped with kabastusan (not in its green sense). He may not be the best looking Korean or the best actor I've seen, but you could see vulnerability amidst strong walls he built around himself.
Jewel in the Palace
I was caught up with this craze when it started. That was the time when Jiang Geum is aspiring to be the best of the servants in the Palace. They were in charged of the kitchen and most of the competition was to test their cooking skills.
And then she was banished but got to find her way back, this time as a nurse. I'm not into the story anymore. I somehow got too tired with the competition. Add to that the song Alipin being played when Kapitan(!) and Jiang Geum will have a "moment", too cheesy for a woohhhhh!!!!, and a aaaahhhh!!!!, it could not get a tight grip of my attention. If not for the millionare Mark Tupas (he just one a million in K!) of Shamrock singing that song, I would have suggested of putting the TV in silent mode!!!
-o-
No wonder, my eyebags are bigger than usual because I somewhat spend more time watching these than doing my plant design..hehehe... But I wish we have ABS-CBN as an option and more channels... (keep on dreaming!)