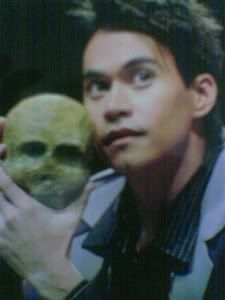 Just came home from watching a Dulaang UP production of Hamlet/Redux. It was fine. Wow... that was the first "ok lang" comment I gave of DUP since Hibik at Himagsik. Ok it was a bit of a drag...maybe because the play was in Tagalog and the lines are poetic so the words are really so deep. Plus the fact that I already know about the story. But really, the actors are superb (si Arnold Reyes ba naman ang gumanap na Hamlet) acting-wise. You can't even say that the direction is bad coz its Tony Mabesa doing it. And on the other elements, wala ka din ipipintas... Maybe it is just the lines.
Tonight was the the last night... actually tonight's play is already an extension...and still it was jampacked. Ellainne and I were already at the bleachers and we were 15 minutes early!!! Well, there are still cushioned ones but Ellainne and I will be seated separately if we will take them so we include ourselves with the lucky few who are seated at the backmost part of Wilfrido Ma. Guerrero.
All in all... hmmm it was ok lang...basta maganda naman kasi... talaga ako lang ung nabore..