Yesterday, I was able to watch the play produced by Dulaang UP under the direction of the legendary Anton Juan, Shadows of the Reef or its tagalog version of Mga Anak ng Dagat. It was, like his other plays, splendid.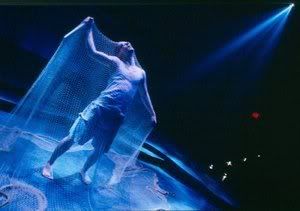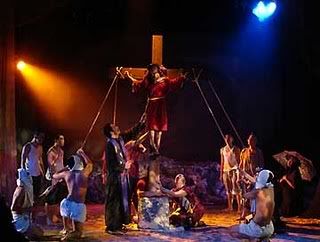 It was really creative how they did the set design and how they portray movement under water. The girl who portrayed the controvertial woman was really a very good actress and his son who is really a little boy was exclamatory because he memorize all his lines and deliver them when correct intonation and pronunciation. Note that his part is not a 1-liner. He has a scene when he was underwater and he had a lot of lines about his life and his dreams. Nakakaaliw na nakakabilib!!!
-o-
President Erlinda Roman, president of the University of the Philippines, was in the house.
-o0o-
Dulaang UP
College of Arts and Letters
UP Diliman
Office Number:
926-1349
,
981-8500
local 2449 or
433-7840