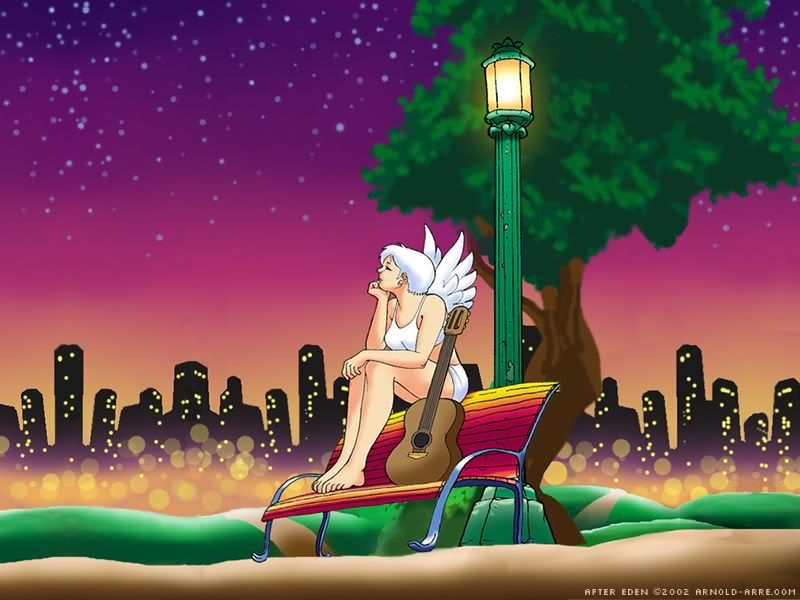 Because of the long wait for Tomei: Rebirth, a film which is part of this year's Eigasei, I finished the novel After Eden.
The book is in comic strip form and is written by Arnold Arre, a winner of Manila Critics Circle National Book Awards. The story is about 2 people, Jon and Celine who had a monotonous life until they found each other. They were childhood friends who got separated when they were kids. After not seeing each other for almost 21 years, Jon and Celine's paths crossed and finally had some meaning in their lives. They found paradise in each other.
Since this is about Eden, it has to have a serpent. Impersonated by Jon's geek-cyber/virtual-fanatic friend Greg and Celine's bitch-y friend Lea, the serpents destroyed this paradise. Greg and Lea thought that they were losing each other's friend so they planned of screwing the relationship and have Jon back for Greg and Celine for Lea. They were both afraid of losing the friendship they used to have and so heartlessly stealing the happiness of Jon and Celine.
But like all mushy love stories, Jon and Celine ended up with each other. But I guess that's not the point of the story. Arnold Arre, through After Eden, reminds us that the power of love and hope still overcomes every serpent that comes to destroy the paradise each Adam and Eve has. And like Jon and Celine, each of us is an Adam and an Eve…looking and searching for one another.
I'll leave with you with some lines and ideas from the book:
"Clasping of Hands"
The fingers represent our good sides… and the gaps between them…our shortcomings. We bump our fingers together—our good sides—and what happens? There's tension! Conflicts! Painful too. But…if we allow the other person to fill in the gaps..to fill in our shortcomings…we create harmony. A link is made…an unbreakable union. Hence, the clasping of hands.
Love is the biggest mystery of the universe. But why try solving it…when one can simply view it for what it is…and marvel at the wonders and strangeness it brings.
Like love, it catches you when you're not looking…It just happens. That's the time when you hear the loveliest of songs; see the most vibrant of colors…when you can touch the end of a rainbow, or catch a glimpse of angels dancing.
-o-
The novel was cheesy, typical and truly mushy but I can't help but to hope and root for the characters to end up with each other until the very end. Two thumbs up for this feel good, fast paced, easy read graphic novel!!!