My generation has witnessed a lot of historic events. We have experience a turn of the millenium as well as the Philippines Centennial celebration. We have experienced 2 EDSA revolutions (although I do not considered the 3rd a revolution). We have witnessed a death of a princess, war in Iraq, change of US and Philippine terms, rise(?) and fall of the Philippines peso, a UAAP cheering champion, as well the defeat of the Green Archers against archrival Ateneo Blue Eagles. We have witnessed how sensational the massacre of Nida Blanca as well as the death of Rico Yan and FPJ. Various calamaties like the last tsunami that hit the Asia which took thousands of lives has come before us. Even, the loss of Manny Pacquiao against Erik Morales, we have witnessed.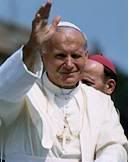 Now, another historical event has happened. Yesterday,
Pope John Paul II passed away at 3:37 am.
I was not glued to the TV yesterday and so, I only found out in the papers. I just wish there was no pain. And surely, the angels in heaven are welcoming him. Ü
I just wonder, what more will come?